The Evolve Programme
'first steps to a healthier lifestyle'
The Evolve programme is a collaboration between Seapoint Medical Centre, Clodagh Thorisson Nutrition in Moycullen and West Coast Fitness in furbo to promote healthier living in the region
The Programme was launched on Wednesday 10th April 2019. It is designed to assist all people trying to improve an existing medical condition or people trying to decrease their risk of developing medical conditions.
Following our initial enrolment, seven applicants joined us for the first block which began on Wednesday 8th May 2019 and will conclude on Wednesday 3rd July 2019.
The next enrolment will open during May 2019 and will be for our next 8 week block scheduled to run during September and October 2019.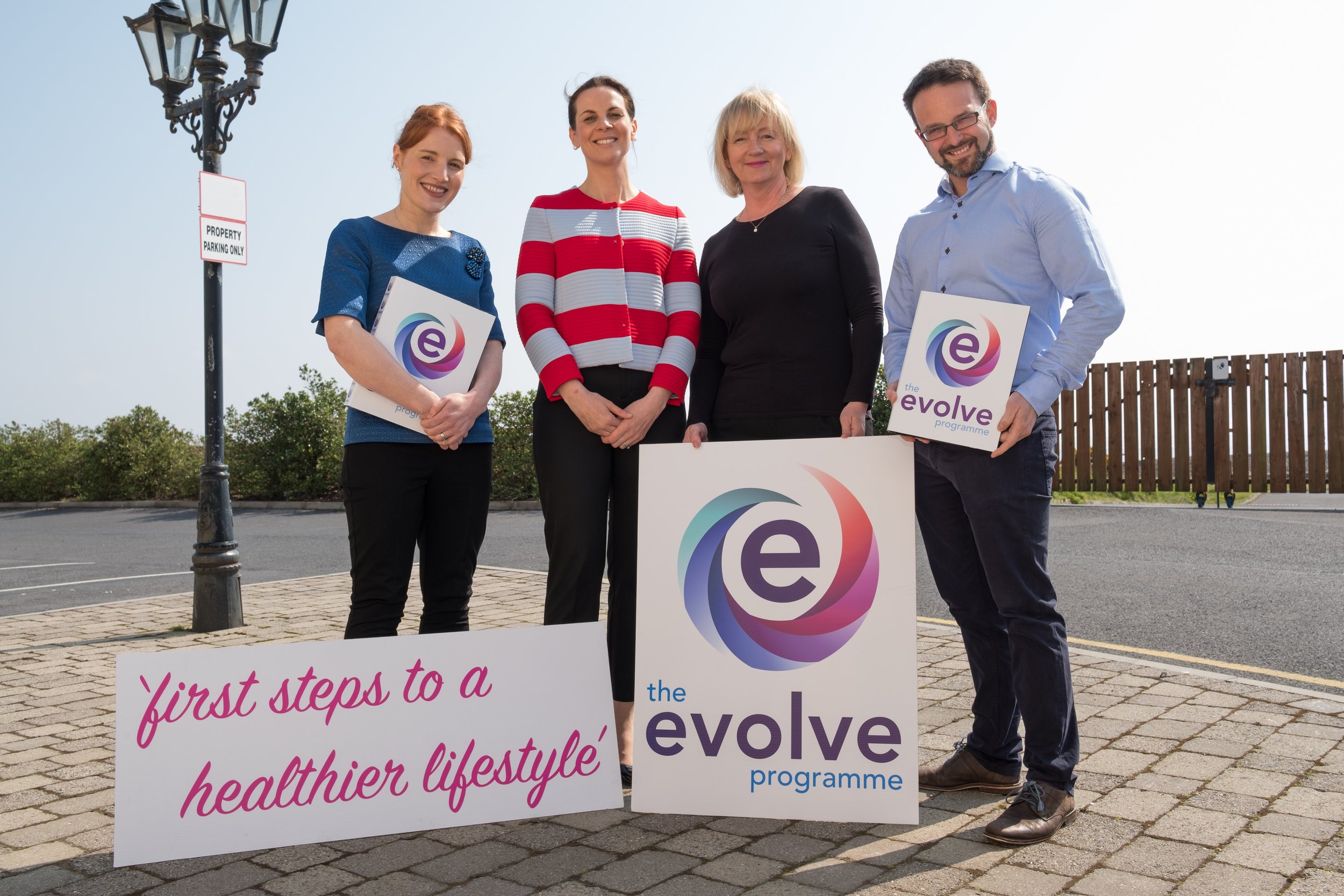 Photographed above at the launch of The Evolve Programme at Seapoint Medical Centre Barna recently, from left; Dr Martina Killeen, Dr Caitriona Waters, Nurse Doreen Eaton and Dr Jamie Kearns
On signing up for the programme you will be:
Booked in to the GP's at Seapoint Medical Centre who will test your bloods and conduct an electrocardiogram, or electrocardiograph (ECG), a simple painless test which measures the rhythm and electrical activity of your heart

Brought back for a full medical review one week later where your general health will be discussed, a number of medical tests will be carried out and your bloods and ECG results will be reviewed

Advised on the ideal health you should be at for your current age and height

Recommended safe, agreeable health and lifestyle goals for you to achieve during the programme

Booked in for a visit with Clodagh Thorisson for a full review of your current eating and dietary habits. Recommendations and guidance will be given to assist you reach your overall health target. You will have 2 other consultations with Clodagh throughout a 6 week period

Commence fitness and exercise classes with Wayne Williams at West Coast Fitness. You will have some home based work to do as well over the 6 week period to assist you in finding a new healthier routine

Scheduled back for another blood test at week 8 at Seapoint Medical Centre and then brought back a week later for another full medical where your current health will be discussed again. Improvements within the 8 week programme will be highlighted and recommendations for future will be given to you at this full medical review
Enrolling Will Soon open for our September/October block
The cost of the programme is €495
Call us on 091 503050 or email us at info@seapointmedical.com for more information